Act 3 – July 2014 and beyond
You're looking at it right now. 🙂
In July 2014, I decided to close down the previous website for World of M.U.L.E. The choice to use the "Tiki" content management system (CMS) in 2004 was a bad one for me – I simply did not find time anymore to maintain such a complex CMS.
WordPress is – hopefully – much simpler to maintain over time. We'll see!
The first migrated content from the old World of M.U.L.E. I have migrated is a very special review of M.U.L.E. in the form of a short story. Enjoy!
Act 2 – June 2004 till July 2014
At the same time I migrated my other website Eidolon's Inn to a real content management system (Tiki CMS), I did the same for the World of M.U.L.E.. It went ok for a while, and I even found some nice people like xot and puzzud who helped me created content. At the end, about 400 people were registered in the community – but you couldn't call it an "active" community. This is how the site looked like then: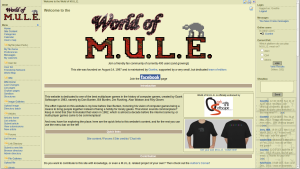 Act 1 – August 1997 till June 2004
At first, the World of M.U.L.E. was a set of simple, static HTML files. Look at the screenshot below – gross, wasn't it!? I guess graphics design wasn't really my strength back in 1997.