Son of M.U.L.E. was a project of Dani Bunten in the early 1990ies, planned to be released for the Sega Genesis / Mega Drive platform.
The game development reached alpha stage in 1993, but then Dani had a fallout with the publisher Electronic Arts and resigned her development contract. The letter of resignation is part of the Bunten Papers at the National Museum of Play. Details about what EA exactly insisted on adding, and who at EA, are not known to the public yet, but in a nutshell Dani tells the story like this:
I almost got a Sega Genesis version through EA in '93 but at the Alpha phase they insisted on adding guns and bombs (or something similar) to "bring it up to date". I was unable to comply. I'm still amazed at how well loved it is (there are a number of web sites devoted to it) and I'm hopeful I can find a way to bring it to life again – possibly on the internet.

Dani Bunten on "Son of M.U.L.E." – from MPath memorial page
In 1993, Sega and Ozark began initial work on M.U.L.E. II ("Son of M.U.L.E."). Music was written for the game. However, Sega wanted guns and bombs added to the game (claiming the addition was necessary to "bring it up to date"). Bunten refused and the project died.

Karl Mamer on "Son of M.U.L.E." – from Ozark Softscape: Creators of MULE
George Sanger a.k.a. The Fat Man was the musician and sound technician for the game. He donated his personal test cartridge of the game to the University of Texas in Austin.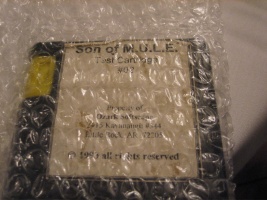 Nowadays, the test cartridge is on display in the University of Texas in Austin: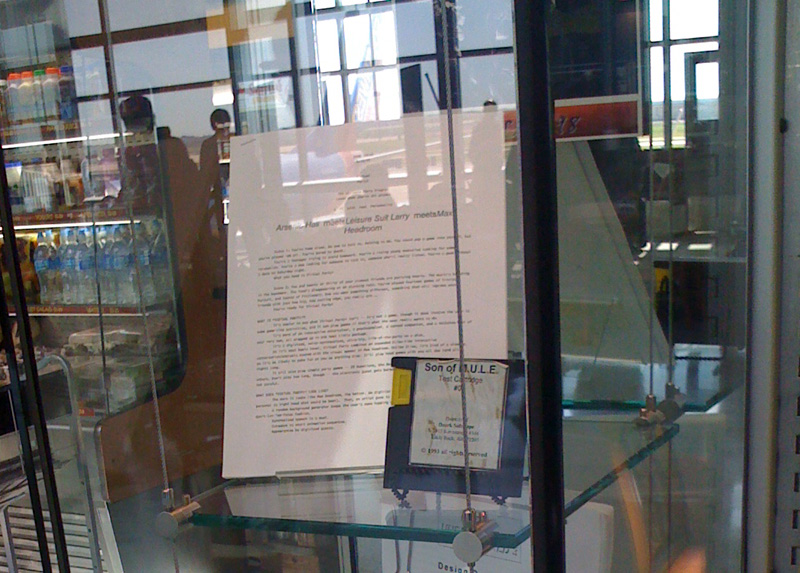 In 2001, I was lucky enough to meet George and preserve the digital content of the cartridge for eternity. Until I find time for a better write-up for this website, you can read my early review of the game from the "old" World of M.U.L.E. website on the Internet Archive here: https://web.archive.org/web/20140702224505/http://www.worldofmule.net/tiki-index.php?page=Sega+Genesis
The following picture shows George's cart in action on Jeff Johannigman's Sega Genesis, were we put it to a test run in 2001 (but did not go very far). Instead we went back to un-mothball an Atari 800 and played a classic Atari MULE tournament. One of the most fond memories of mine, even 20 years after.
Sources
---